Most recent articles
***translations in progress*** | Meet our translators (below)
Hugo Chavez Frias, Odihnească-se în Putere!
Eres de los muertos que nunca mueren!
Asta da femeie!
Patricia Jennings-Welch: O mare femeie, O mare mostenire
Acuzarea lui Hugo Chavez
Si alte distractii pentru cei bogati, degradati si complet imbecili
Ignoranta copiilor nostri chiar ne poate distruge
De ce trebuie sa fii informat despre Africa si restul lumii
Parada natiunilor, parada ignorantei
Dezamagirea unui fan cu privire la Jocurile Olimpice vazute la televizor
O platforma goala intr-un oras gol
Stay in Bed

Loyal opposition, disloyal regent

We Can Win the War in Vietnam
And other chestnuts from a not-so-bygone era

Kase Klosed
From Tweedle Dick to Tweedle Dean: Democrats About to Blow Another Chance
We Were Just Talking: (Yet ) another conversation about Dennis Kucinich
Our President is a Criminal
The Fire This Time: Why Kucinich may be the Right Guy at the Right Time
Occupation: our gift to the world
Don't Mess With Texas
Suffering Suffrage!
Fair Warning
American Taliban
---
Romanian freelance translator
ioanasdr@hotmail.com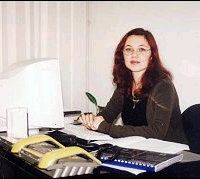 I am a Romanian freelance sworn translator, a B.A. in English and French language and literature - "Al.I.Cuza" University of Iasi, Romania. I live and work in Romania, I enjoy a lot my work and struggle to do my best and please my clients.
I believe that, now and then, when time allows us, each of us should make volunteer, no matter the field we're working for, that's why I involve myself in certain projects, too. And why being so modest and not admit that this also brings translators, publicity; and we get known, we may get contacted for future jobs, it's always a little business in everything, it's a fact of life. I'm sure you agree on this.
The reason for which I agreed on translating Daniel's text is worldwide peace. I'm not good at all at politics and I don't even want to hear about it, still I do care about world peace, it should be a concern for all of us. If this text I translated is a message pleading for peace, then I think I did a good thing to translate it also in my mother language, Romanian.
Language is the only bridge tying different nations, cultures, people, religions and, who knows, maybe even planets or universes.
Translators play an important role for the society. They are your link to other people.
Translators are the rings of a chain that connects you to the whole world. (You may read my essay at: wordmaster.ev.ro/pages/article/article.php?art=34)
---
Betty Simona Lescaru
---
---
---
---
Hi, my name is Valentina and I am a native Romanian translator, interpreter and proofreader.I have an academic degree in foreign languages (English and Italian), with concentration on language and literature and I currently live in Germany. I enjoyed translating for Daniel, his articles are very interesting and full of passion. Thank you Daniel for allowing me to be a part of this.