Most recent articles
***translations in progress*** | Meet our translators (below)
Stay in Bed

Loyal opposition, disloyal regent

We Can Win the War in Vietnam
And other chestnuts from a not-so-bygone era

Kase Klosed
From Tweedle Dick to Tweedle Dean: Democrats About to Blow Another Chance
We Were Just Talking: (Yet ) another conversation about Dennis Kucinich
Still Crazy
Our President is a Criminal
The Fire This Time: Why Kucinich may be the Right Guy at the Right Time
Occupation: our gift to the world
Don't Mess With Texas
Suffering Suffrage!
The Road To Hell
Fair Warning
American Taliban
---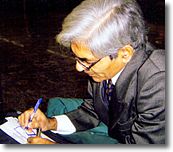 Born in India, raised in Pakistan and getting old in Slovenia, I have been translating for last 25 years, first as hobby, then as part of my job and since 1999 as full time freelance translator.
I have a University degree in Mechanical Engineering and Master Degree in Business Administration. My mother tongue is Urdu, however living and working for many years in Slovenia, a good part of my translations is also between English and Slovenian.
If, while browsing through Internet, you have ever typed "Urdu solution" as a keyword in any known search engine, the chances are that you have found my content rich site about Urdu among the five top in the list. If you have not, here is the link: http://users.volja.net/kabir/. Otherwise, I am registered with many translators forums, like Proz,com, translatorscafe.com, translationzone.com, aquarius.net, gotranslators, just to name a few. My CV is available on sites of these forums, a detailed one being at http://kabir.translatorscafe.com.
Living abroad never broke my ties with Urdu and the land of the language. Now, when modern technology has made it possible to work without being tied to one place, I move to Pakistan for a few months every year without taking off from my work. So, I am keeping myself update not only with the written but with living (spoken) Urdu as well.
I can be reached at kabir@volja.net or kabir_majid@yahoo.com and of course at telephone, any time +386-1-2322332 or at GSM 040-756771.