Fifteen Years Ago Today "...on a cold and cloudy day..."
It was a day remarkably like this one, cold and cloudy like the song says.... except that the spitting snow turned not to sunshine but a raging blizzard.
We did indeed stand there by the window and "see the hearse come rollin' for to take my Papa away."
The remarkable thing for me is not just the resonance of the weather or the sadness that has become bound up with the season for me.
More than that: I can show these pictures, to kids at school who were nowhere near being born yet, who have no memory [one poetic exception: today of all days, Kirsten came to visit, home on her break from college. She is the only student present to have overlapped chronologically with Mr. Frank, though before her own memory formation]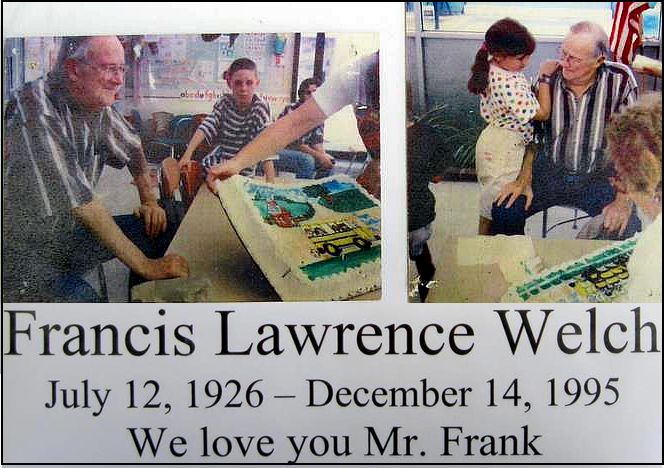 ...no memory of Mr. Frank, and yet... I can show them the pictures we keep around of Mr. Frank's last 'school birthday,' a ritual with which they are all intimately familiar. I tell them that when I reprimand them for rocking in their chairs (I have to FIX those, you know!) that my Dad is speaking through me, using almost exactly the same words.
And 'Bill the Builder' is poking around doing the odd jobs that Mr. Frank did in his retirement, minus the bus driving and obsessive yet welcome chronicling of everything GHS.
I can tell them that, while they know Mr. Danny as the 'Funny Guy,' that Mr. Frank taught me everything I know and now use to chide, cajole and herd them into learning with my humor. He is here, as the other song says. [below]
Great Balladeer Paul Simon was right when he said "...Loooosing love is like a window in your heart/ Everybody sees you blown apart/ Everybody feels the wind blow...." It's a big hole, never far from the surface, that we can only paper over to keep out the coldest of winter winds.
Yet I feel somehow thankful and yes, even hopeful, that so much of the people I love is preserved; that so much of him lives on through people who never got to know him.
Dad, Frank, Papa, Mr. Frank, Uncle Frank
Francis Lawrence Welch
July 12, 1926 - December 14, 1995
We love you always, and you are always in our hearts
Dad's Tree


by Daniel Patrick Welch

He's here I feel his hand
reaching out to touch me
from a not-so-distant land
I hear his voice inside me
and I know you feel it too
as long as we remember
he'll be here with me and you

And through us he'll be reaching back
to all the friends we've known
And so he'll make us young again
when we've all gone and grown

CHORUS
The tree we plant today
in memory of the ones we love
watered by the clouds above
nurtured with undying love
let it grow and grow
let it grow and grow
let it grow and grow
'til it towers over you and over me

I know he's with us still
in the springtime when the seedlings here
come out to drink their fill
In every leaf and flower
in every living thing
his memory breathes the hope of life
and makes our sad hearts sing

And so the cycle starts again
In every nest and hive
with roots below and leaves above
we're keeping hope alive

CHORUS