Most recent articles
***translations in progress*** | Meet our translators (below)
Mickey Mouse-ing the Vote
Takes a Whole Lot o'Trying
Stay in Bed
Loyal opposition, disloyal regent
We Can Win the War in Vietnam
And other chestnuts from a not-so-bygone era
Kase Klosed
From Tweedle Dick to Tweedle Dean: Democrats About to Blow Another Chance
We Were Just Talking: (Yet ) another conversation about Dennis Kucinich
Still Crazy
Our President is a Criminal
The Fire This Time: Why Kucinich may be the Right Guy at the Right Time
Occupation: our gift to the world
Don't Mess With Texas
Suffering Suffrage!
The Road To Hell
Fair Warning
American Taliban
---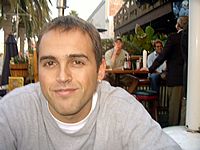 "Born and raised in Rovinj, Croatia, I now live with my lovely wife Sarah and newborn son Marco in Manhattan Beach, California. After spending 10 years in Padua, Italy, and earning my Master's degree in Foreign Languages and Literatures (English and German) I relocated to California in 2001.
I work full time as a foreign credential evaluator and part-time as language teacher and translator.
My main languages are Croatian and Italian and I also work in other Southern Slavic languages and German. I consider myself to be a generalist when it comes to translations.
I decided to help Danny with the translation because having grown up in one of the Guinea-Pigs of modern USA and European Union tailored democracy I know the importance of getting the voices heard. And of course because the good old "Verba Volant. Scripta Manent."
I can be reached at sarahgacina@adelphia.net and sgacina@hotmail.com

Tel: (310) 795-8073 cell and (310) 545-8886 home"