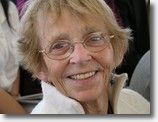 Ain't She a Woman? Patricia Jennings-Welch: A Great Lady, A Great Legacy - Eulogy for Dan's mom 'Patsy', as prepared for delivery at St. Thomas the Apostle Church, Peabody, Massachusetts, March 5, 2009
Excerpt:
"All I learned about respect and dignity, about striving and not letting people be put down, it all came from this amazingly complicated, strong and astoundingly determined woman to whom we bid farewell today. This woman who taught me to respect strength and compassion with equal weight—-the woman, in short, who taught me how to be a man. This woman who taught so many so much, and from whose example I learned that nothing is beneath us-—that unclogging toilets goes hand in hand with learning and teaching reading or a foreign language, that a life without striving is a life without value—but also that striving for oneself without raising others up is as pointless as it is morally reprehensible. ..."
Translator comments:
Sabine (German) : "sorry for keeping you waiting - this was very emotional and I needed the odd break before I could go on...."
Darja (Slovenian) : "am amazed at the perfect timing of this coincidence - your down-to-earth, yet intensive farewell words, and my present situation, on which additional light was shed by your
words. Your mother continues to inspire.
Tess (Greek) : "I have to admit I was profoundly moved while reading this. She must have been quite a woman!"
Marwa (Arabic): I thought beautiful mind,,after reading the sentence "honey, I want you to put
me into a coma. Then they can wake me up in five or ten years when they've found a cure
for everything that's wrong with me." Ain't she a woman!!! Full of hope and life, and love; even youth do not have such a courage!!! I want you to know that I am very sorry for your loss, but a woman who had a son like you didn't die!!!.
Julie (Danish): It was a moving eulogy. She must have been a beautifull woman. I am sorry for your loss.
Anita (Polish): I think this eulogy is a beautiful piece of writing ....